---
Decisions, decisions…we can't get through life without them. A fulfilled life is based on better decisions which are the results of better strategic thinking. This enjoyable presentation will eliminate the confusion about the most important process you use on a daily basis.
Get simple answers to questions on strategy, strategic thinking, tactics and decision making. Walk away with terms you will understand and can use forever. Attendees will:
Get one word definitions for strategy, strategic thinking and tactics

Understand what goes into making a decision

Understand risk and the four methods to deal with it

See how good strategic thinking led to dramatic success

See how poor strategic thinking led to a disaster

Learn how to practice and improve strategic thinking and decision making
Strategic thinking and critical decision making if practiced on a regular basis can provide a framework for surviving life's contentious decisions. Be in the winner's circle by thinking your way to a better life.
For registration information use the following link: Engaging Speakers
For the Engaging Speakers homepage click on the icon below.

---
Brandon Saad, Brad Richards and Patrick Kane
Work the Decoy Tactic to Perfection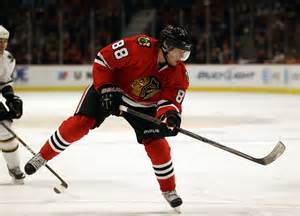 Late in game 6 of the Stanley Cup finals three Blackhawk players worked the decoy tactic on Tampa Bay Lightening goalie Ben Bishop to perfection. In chess the decoy tactic is attracting one of your opponent's pieces to a bad square so you can take advantage of the situation. I wrote about it in "Chess - A Practice Court for the Mind" where tennis players try to attract their opponent to a bad part of the court maybe up to the net so they can lob them for example.
Well it applies to hockey as well. The three Hawks managed to keep the goalie on the right side of his net with Brad Richards maintaining the puck. The Lightening had a defensemen in between Richards and Kane. The point is to attract, lure or decoy the goalie to the side where the puck carrier is playing. The defenseman is supposed to break up any cross ice pass to the open player but the Hawks had such good placement neither Bishop nor the defenseman had time to recover from the decoy and Kane had a wide open net. Watch the goal to see how the play unfolds.
Kaner's Game Clinching Stanley Cup Goal
First of all the play is a tactic because it came from a 3 on 2 breakout OPPORTUNITY due to Tampa being deep in the Hawks zone trying to get a goal themselves. Saad led the play and dropped the puck to Richards taking one of the Tampa defensemen with him. So the 3 on 2 became a 2 on 1.
Richards held onto the puck long enough to force Bishop to guard the right side of the net. But if he guards the right side he leaves the left side wide open. The pass between Richards and Kane went faster than Bishop could recover and the rest is history.
All Chess Tactics have Names, Strategy involves Choice, Tactics are Opportunities
The beauty of chess is that all of the tactics we use have names so we can teach the concepts to our young hockey players if the coaches know how to do it. For example in chess we have a 'remove the defender' tactic which in basketball is setting a pick. It's all done in the hopes of freeing up a player to drive to the basket. This Hawk goal reinforces my teachings that strategy is a choice of the actions available given the situation you are facing. Tactics are opportunities that come along and if you take advantage of them you can quickly win the game or in this case clinch the Stanley Cup.
As Eddie Olczyk would say to all you young hockey players out there learn what to do when you have the puck and when you don't. Imagine the influence a hockey coach would have if he said "I want you to use the decoy tactic on the goalie" and his young players already knew what he's talking about because they took the time to learn about chess.
Flashback to 1971
All my hockey playing days in the 1970's with the Elmhurst Huskies and getting ice time in Toronto during the summers continues to instill my love for hockey. I told my brother who has season passes and saw the Hawks win the Cup on home ice how ironic life can be. I vividly remember 1971 when my dad and I had season tickets and we were watching the seventh game of the Stanley Cup finals against the Canadiens at the Chicago Stadium. The Hawks built up a 2 goal lead but the Canandiens scored 3 straight goals and stole our cup that year. This year the Hawks built up a 2 goal lead and a Canadien in our goal helped keep the Cup in Chicago.
---
Tennis and Chess are Linked Once Again
What do Uncle Toni, Rafa Nadal, Ivan, his late father Jiri Lendl, Boris Becker, Novak Djokavic and Jim Egerton all have in common? They are featured in the same article in the June 2015 issue of UK magazine tennishead. Billed as the World's Best Tennis Magazine, author Jo Carter went to the Australian Open to interview her subjects for her article "Checkmate How playing chess can improve your tennis." Tennis for the Mind relates the two games and is based on an article written by tennis coach Jim Egerton the founder of Chess-Now Ltd. a training organization that uses chess to help clients in Business, Sport and Education. Mr. Egerton's 2010 article in Professional Tennis Registry's magazine TennisPro is entitled "Chess – A Practice Court for the Mind".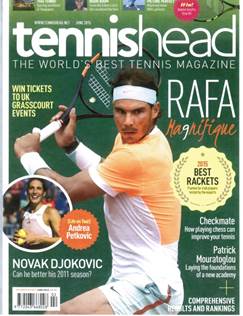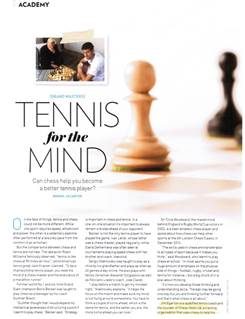 Ms. Carter draws upon Mr. Egerton's expertise and enhances it with content about other chess playing tennis players like Elena Dementieva, and her brother coach Vsevolod, Becker's coach Gunther Bosch, Sergiy Stakhovsky who plays with fellow Ukrainian Alexander Dolgopolov and Feliciano Lopez's coach, Jose Clavet. The article has a picture of Novak Djokovic and Boris Becker deep in thought over a chess game from Novak's Twitter account. Mr. Egerton has an in-depth review of the position on his blog. Thank you Jo Carter for exposing Novak's secret sauce on what is keeping him at the top of the rankings in men's tennis. ;-)
For a link to the tennishead website click tennishead.
For a PDF copy of the tennishead article click Tennis for the Mind.
For a PDF copy of Jim Egerton's article click Chess - A Practice Court for the Mind.
For analysis of the chess game Boris and Novak are playing click "Without a Clue"
---
After 60 years on Las Vegas Strip, Riviera closes at noon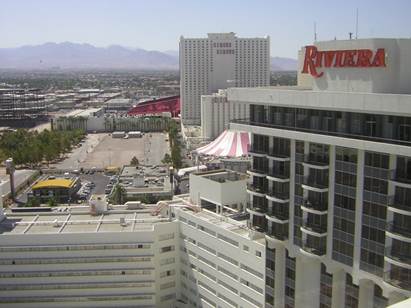 Riviera Hotel and Casino closes at noon after 60 years on Las Vegas Strip; Will be torn down

5 hours ago
LAS VEGAS (AP) -- The aging Riviera Hotel and Casino on the Las Vegas Strip will age no more as of noon. The 60-year-old casino-hotel is expected to close its doors at that hour Monday.
The 2,075-room building and the 26 acres it sits on was sold to the Las Vegas Convention and Visitors Authority in February. The publicly-funded tourism agency plans to tear down the casino-hotel where Liberace and Frank Sinatra were once headliners and expand the Las Vegas Convention Center to the Strip.
"The Riv" is among the few remaining hotel-casinos that got its start in Sin City's early mob-led days. The property has struggled in recent years as development around it went dormant, deterring walk-in traffic. Furniture and fixtures inside the casino-hotel are expected to be auctioned in mid-May.
Shown above is the view from the Top Floor of the Monaco Tower looking west from the Riviera. This was the scene of the 1995 Sharon Stone marriage to Robert DeNiro in the movie Casino shot on sight at the Riviera hotel. For more pictires from the "Top of the Riv" that are now part of the history book, see the Vegas Skyline.
The view looking east from the Monaco Tower south of the the Fountainebleau, the Turnberry Towers and far right is the Westgate Hotel (formerly Hilton) where the National Open chess tournament which had resided at the Riviera for years has now taken up new quarters.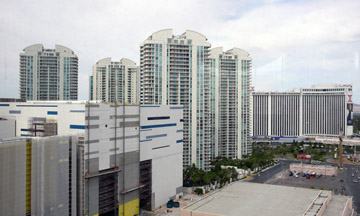 ---
Then and Now for Boris Spassky
During the 2014 World Championship Chess match between Magnus Carlsen and Viswanathan Anand in Sochi, Russia, former World Champion Boris Spassky was on hand for the opening ceremonies. He was also there to promote his book Winning Record against World Champions. Shown below is a picture of Boris and me when I first started my company in 2004 at a chess tournament in Reno, Nevada. He was the featured guest and was visible throughout the weekend for the players.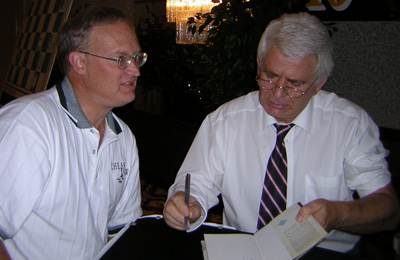 In Depth Special Appearances
| | | |
| --- | --- | --- |
| | | World-Champion Boris Spassky made several appearancs in Reno, Nevada promoting chess. Click here for more information of this In-depth Special Appearance. |
Just 10 years later the 77 year-old champion is now confined to a wheelchair after suffering through several major health issues. He is still a source of inspiration as witnessed by his lively press conference discussion about his new book at the World Championships.. See www.chess.com for more information about Boris at the match.
Boris Spassky watching the start of the game.
Courtesy of Chess.com
---
Boris & Novak having a Friendly Game
During Wimbledon 2014 Novak Djokovic posted on the Internet a picture of his coach Boris Becker and him playing a friendly game of chess. Boris is buried deep in thought becasuse his Queen on b2 is being attacked by Novak's Rook on b1. My analysis is below the picture. What was Mary Carillo the TV commentator interested about in the picture? The support bandage on Novak's right wrist. That could help explain his subpar performance in the tournament. Nary a word about the fact he knows how to play tennis much better than he plays chess. See my "'Chess - A Practice Court for the Mind'", article for PTR based TennisPro magazine on how the games relate.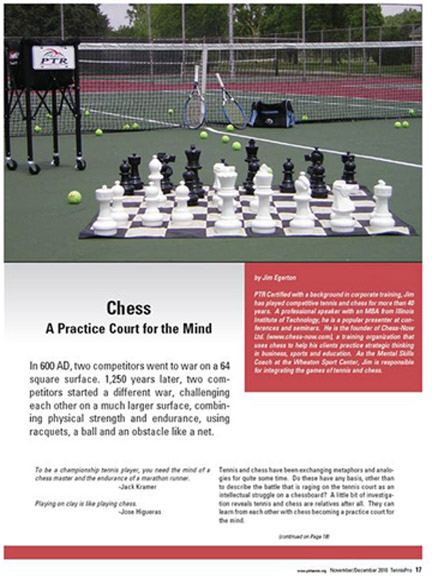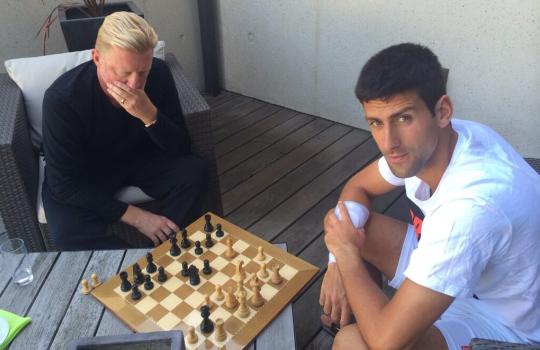 The position Boris is facing is shown in the following diagram.
Guard Your Queen Boris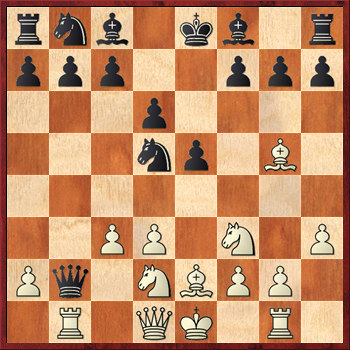 Good thing Boris is coaching Novak on tennis. If he were coaching him on chess Novak would be best not to listen. Boris is using the age-old beginner strategy of pawn grabbing with his Queen. I think it's the lowest setting you can program a computer to play at. He has only 2 of his pieces (Queen and Knight) developed. The rest of them are sitting on the bench doing absolutely nothing. He is getting away with it and is about to go up a third pawn. The one on a2 is loose and the one on c3 is hanging as well. If Boris trades down he will maintain a winning advantage.
Boris is getting away with it because his opponent is strategically better at development but not in controlling the center of the court (oops I mean the board). For whatever reason (maybe he doesn't like his King in a corner from all the tennis strokes he's had to hit from the corner) Novak has decided to move both of his rooks confining his King to the center of the board because the castling priviledge has been lost. This is bad news for Novak. Boris can either keep the Queens on and continue to attack White's King or trade off the pieces and go into a winning endgame.
Just imagine how much better the players could be at chess (and tennis? ) if they had a little training. Boris has long proclaimed that learning to play chess has been a critical component of his success on the tennis courts. He started playing chess when he was 15 and won Wimbledon at 17 so it's hard to say that playing chess has hurt him. See Boris comments further down in this blog.
Here's to Novak's continued tennis success and Boris' never ending battle to get him to play better chess. At the moment, no one can beat Novak on the tennis court and both of them are fine with that.
---
Bill Gates plays Magnus Carlsen in a chess game
In a television studio in London the new World Chess-Champion Magnus Carlsen agreed to play Microsoft co-founder Bill Gates a quick game of chess. Quick for how long it lasted and the time conditions for the moves. Magnus got Black and 30 seconds, Bill got 2 whole minutes for his game. Watch the following video to see how much fun Bill Gates had subjecting himself to this torture.
Immediately Magnus subjects Bill to a position where slow thinking was required and Gates didn't have time for it. He purposely got into a position that Bill Gates would have no recall of. He responded 1...Nc6 against the 1.e4 push from Bill. From his body language you can tell Gates had done no prepration for this little encounter. If he had any coaching it would have been to play slow positional chess and not some complicated variation where you could get mated. He made some excellent strategic moves and a poor move with his White squared Bishop and then just an unforgivable blunder at his last. The critical position arose on the 8th move. Magnus has sacrificed a Bishop for a raging attack against the semi-exposed White King. Can you see what the threat is?
Guard Your King Mr. Gates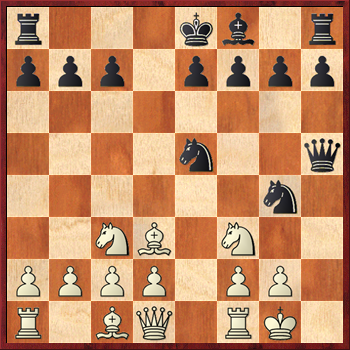 Magnus has created a trap that Bill Gates has to understand and find a counter if there is one. Bill Gates is faced with a 'Removing the Defender" tactic of his Knight on f3. Right now with the Knight there guarding the h2 square, Magnus cannot make any more progress. But if the Knight is removed withe Ne5xf3 with check, no matter how White recaptures with the pawn or the Queen the Black Queen enters the White castle with a checkmate on h2 with Qh2#.
Bill Gates grew up playing games with his favorites being Risk and Monopoly. He certainly has played some chess in his day with moves like 5. Nc3 attacking the Queen 6.0-0 proper risk management securing his King by castling, Putting the Question to the Bihsop with 7. h3. Having the guts to take it a move later with 8.hxg4 and then failure to see the one resource he needed,
So what is Bill Gate's problem? His King lacks any mobility. It's stuck on the square g1. In their book 'Strategy Rules' Yoffie and Cusmano say that a master strategist like Bill Gates rather than looking back and reasoning forward when he ran his business, he had the ability to see the future look forward and reason back to make the necessary moves to get his company into position. Applying that logic Bill should have pictured a Queen on h2 giving checkate if the King cannot move. After giving his King a just-in-time escape square with the move 9.Re1 nothing Magnus can do will decide the game in his favor. He can castle queenside, lift up a rook and swing it over to the half open h-file to continue the attack but Gates has plenty of ways to save his bacon including running with his King to f1 and e2 if necessary.
And what did Bill Gates play? Proving he was not in the moment which tactical play requires he captured Magnus' Knight on e5 with his Knight 9...Nxe5?? voluntarily "Removing the Defender" of the h2 square on his own and was promptly checkmated with 9...Qh2#.
So Bill Gates coulda, shoulda won if he found the right move. Proof that statregy is important but when there are tactics in the position, especially ones that form a combination, tactics prevail. Kudos to Mr. Gates for allowing us to see his thinking and being a sport about the whole thing, because everyone knows Bill Gates doesn't like to lose at anything.
---
Tennis & Chess Camp at Oberlin College
For two weeks Chess-Now conducted Tennis & Chess Junior Camps at Oberlin College in Oberlin , Ohio . Campers studied the connections between the two games by playing tennis in the morning and chess in the afternoon. Campers reviewed strategies and tactics used in both games. Campers learned to "Think in Combinations" on the tennis court and at the chessboard. They participated in a Chennis™ tournament where they play each of their fellow campers in a 10-Point Tie Breaker and a Game-in-10 chess match. The winners were the best at both. The camp curriculum is based on the award winning article "Chess – A Practice Court for the Mind" published in TennisPro magazine by PTR certified tennis professional and master level chess player Jim Egerton.
Below are pictures of the beautiful campus and tennis courts the campers used.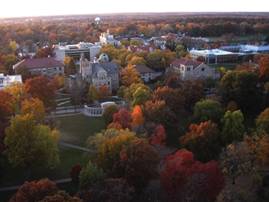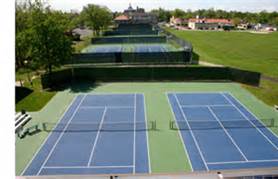 ---
A Super Bowl Story having to do with Chess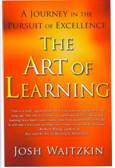 In his 2007 book, The Art of Learning, International Chess Master Josh Waitzkin whose life was the basis for the movie " Searching for Bobby Fischer " relates the following story about someone involved in Super Bowl XLVII.
In the fall of 1996 my father read about the sports psychologist Jim Loehr, who ran a performance training center called Human Performance Institute (HPI) in Orlando , Florida . HPI was founded by Loehr, the esteemed sports nutritionist Jack Groppel, and the no-nonsense physical trainer Pat Etchemberry as an environment in which the physical and mental sides of the pursuit of excellence converge.

…World –class tennis players, golfers, NFL and NBA stars, Olympic athletes, top CEO's, FBI SWAT teams, basically any kind of elite performer could be found on a given day working out in the high-tech gym, meeting with sports psychologists, or chatting with one another about the similarities of their experiences.
…While working with a trainer at HPI on my first day, I was determining my level of fitness…by sprinting on a high-tech stationary bike, sweating up a storm, hooked up to all sorts of monitors, when a guy slapped me on my back. I turned around to see Jim Harbaugh with a big smile on his face.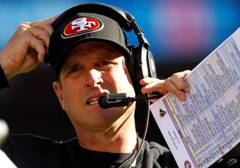 At the time, Jim was the star quarterback for the Indianapolis Colts. Being a huge Jets fan, I had not always rooted for Jim, but I had watched him play for years and admired his fiery competitive spirit. …I was surprised when Jim told me that he was an avid chess player and had followed my career for a long time. We fell into a conversation about the psychological parallels of top-notch chess competition and quarterbacking in the NFL. I was amazed by how many of the same issues we wrestled with. I think that this conversation in the HPI gym was my first real inkling of how universal the arts of learning and performance really are.
Waitzkin, Josh. The Art of Learning, A Journey in the Pursuit of Excellence , Free Press Publications, New York , 2007, Page 177.
Dr. Jim Loehr, is the author of the best selling books, The Power of Full Engagement , The Power of Story, & The Only Way to Win. The author of this article is a Human Performance Institute (HPI) Certified Mental Toughness Trainer which is a commitment to Building World-Class Competitive Strengths.
---
Chess-Now conducts corporate training for Wrigley Gum.
Chess-Now provided a full day of corporate training on "Strategic Thinking" for a product development group of Wrigley Gum. The off-site meeting helped the participants understand the role of strategy, tactics and critical decision making. The training featured a number of team building activities that reinforced the material using chess. The training was conducted at Catalyst Ranch in the West Loop area of Chicago. Conveniently located near train stations groups looking for a friendly atmosphere and facility to conduct a business meeting or training should check out the Randolph street company and their capabilities.
For more information see the Catalyst Ranch Website Shown below is a typical room at the Catalyst Ranch furnished in an idea inspiriing motif making it a perfect place for a full day of training.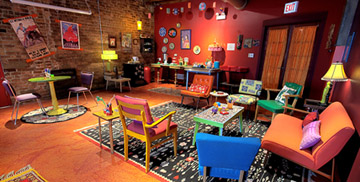 ---
Wall Street Journal has 1st Page article on chess
"Chess Reigns as Kingly Pursuit in Armenia"
The Wall Street Journal ran a lead story about the popularity of chess in Armenia. Having again won the recent 2012 Chess Olympiad, Armenians treat their Grandmasters like rock stars and "Chess like soccer in Brazil or football in America". The nation of 3 million has made chess training compulsory in their schools.
For the complete article see WSJ Armenia Loves Chess. Shown below is the Armenian Chess Team winning their Gold Medal in Istanbul, Turkey.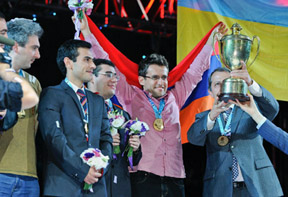 ---
Q & A with Former World Chess Champion Anatoly Karpov
The ex-World Chess Champion was in Oak Brook , Illinois recently promoting his " Chess for Peace" and "Chess in Schools " initiatives to the local community. This was part of a one day festival of chess activities including a scholastic team chess tournament, a presentation of awards, and an open Question and Answer forum in front of students and parents interested in finding out what championship chess is all about.
As an ex-world chess champion for 16 years, Mr. Karpov now travels around the world promoting the use of chess as a vehicle to increase understanding between nations and to sponsor chess as a learning tool for children in school. He was interviewed by the local press and then stepped in front of a live audience to talk about those initiatives.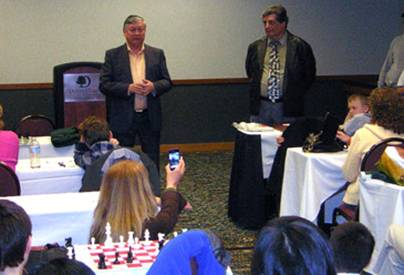 For answers about the Bobby Fischer match, how he got so good, what openings he plays, how to handle tournament pressure, how to get more girls into chess, what chess history he would change, Magnus Carlsen and the upcoming world championship match as well as an interesting look at how he spent his next day (in jail) and what tournament he will appear at in June see Q and A with Anatoly Karpov.
---
Chess and Tennis Come to Life at the US Open
Roger Federer and Novak Djokovic combined to use 6 chess tactics that resulted in Roger winning the tennis point of the year award in 2009.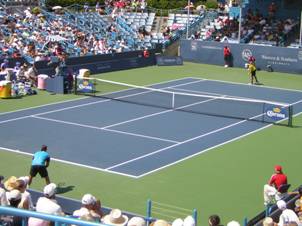 Click on this link Federer Between the Legs - 2009 to see these tactics come to life. Watch the video to see how these chess/tennis tactics created the combination.
For a complete explanation of what is happening see: Chess and Tennis Come Together for Shot of the Year.
---
Tennis Legend Boris Becker Says:
"Key to Tennis Success is Chess"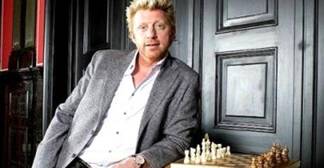 During an opening appearance at the London Chess Classic Boris Becker said "One thing that not many know about me is my love for chess. I took it up as a teenager, and it always helpled my tennis as a mental stimulation." Becker told Eurosport-Yahoo!
Becker revealed his love for chess and ritual of playing the game before going on court to ensure that he was mentally prepared for battle against such rivals as John McEnroe.
Becker is adamant that chess should be used by the current top players to gain a competitive and mental edge over their opponents. "Many of the older players such as Ivan Lendl (who is currently coaching Andy Murray 4th ranked player in the world - see related Wall Street Jounal Article "Cracking Tennis's Inner Circle") used to play chess, but I'm not sure if many of the modern-day players play the game.
To see the complete story hit Key to Tennis Success is Chess.
Tennis Legend Boris Becker Challenges GM Nigel Short
While attending the opening round of the London Classic, Boris also agreed to play a game against English Grandmaster Nigel Short. It was an admirable effort for such a high profile tennis player to step on the court of a Grandmaster. Boris lost pretty quickly but then again how would Nigel fare on a tennis court?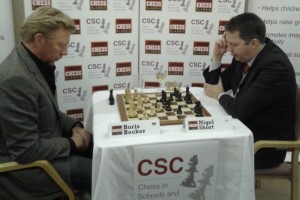 For a video of part of the contest see Boris Becker vs Nigel Short.
For a review of the moves of the game see Becker vs Short chess moves.
---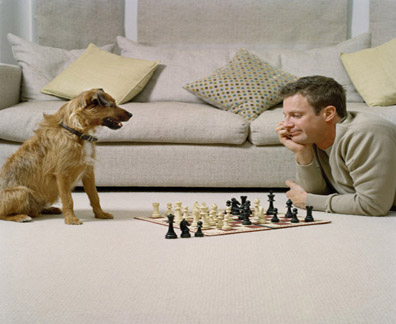 What's Wrong with this Picture?
Question: Shown above is a man having a game with his best friend. But something doesn't look right, can you tell what's wrong here?
Answer: The owner is not having a great day since his pet is beating him, the pet is a Queen, Knight and Pawn ahead so is clearly winning the game. Also the canine has castled safely with his King while the owner is playing on with his King in the middle of the board. No wonder the owner doesn't look too happy. (That could all be rectified with some training from Chess-Now.)
---
---
The Mozart of Chess: Magnus Carlsen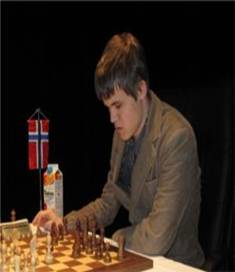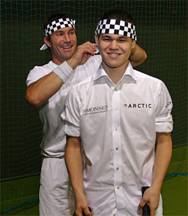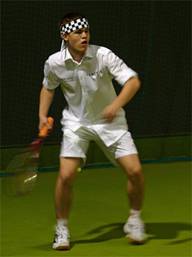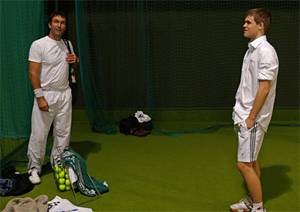 Watch this "60 Minutes" story on the best chess player in the world from Norway, Magnus Carlsen. Rated number 1 in the world, Magnus has many interests including soccer and tennis.
For tennis players watch Magnus hit a backhand passing shot against champion Patrick Cash at the net on the court at Wimbledon about midway through the piece.
To watch the story click The Mozart of Chess: Magnus Carlsen.
---
In the Shadow of the Arch
By Jim Egerton


St. Louis has always been the gateway for those seeking their fame and fortune by going west. Now the city is leading a revival of one of the oldest competitions known to man. For a fortnight in May, twenty-four of the best American CEO's (Chess-playing Executive Officers) competed against each other to determine a champion. The CEO's implemented their strategies with astute planning and ruthless tactics. They rallied their employees (pieces), evaluated and undertook projects, attacked the competition, defended their enterprises, engineered fortresses and even invested when necessary with timely sacrifices, all in the pursuit of the championship.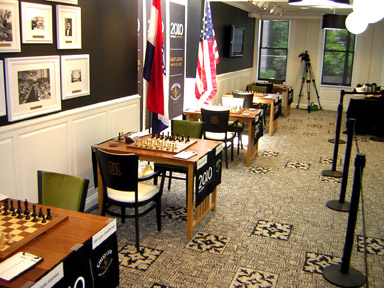 For the complete text of this behind-the-scenes pictorial look at the 2010 US Chess Championship see In the Shadow of the Arch.
This is a 700KB PDF file so it may take some time to load. Enjoy the event.
---
Customized Programs for Education
The discipline of chess in EDUCATION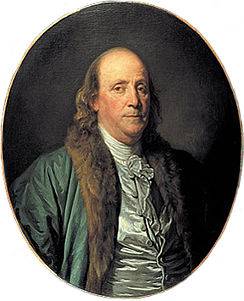 Ben Franklin said…
"The game of chess is not merely an idle amusement; several very valuable qualities of the mind are to be acquired and strengthened by it, so as to become habits ready on all occasions; for life is a kind of chess."
Chess - A Game for the Ages

Chess-Now offers a unique look into chess for those non-players who want to better understand this fascinating game. " Chess - A Game for the Ages " is an interactive discussion of a game played all over the world by 550 million people. If you want to know about the history of the game, art and chess, stories about the players, the evolution of the pieces then this lively online slide presentation is for you.
Shown below is "Lady Howe checkmating Ben Franklin" which depicts the great man at play during his sojourn as envoy to London. They were discussing how to avoid having the colonies go to war against England. Credit to Manson Collection, Yale University Art Gallery.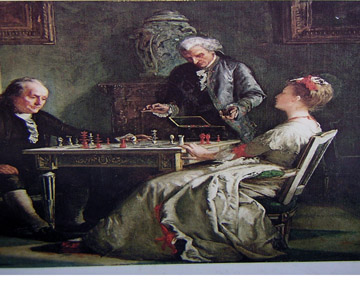 ---
Chess Related Training Materials - "Let's Play Chess"
Want to learn the rules of how to play chess? Download this handout from the United States Chess Federation (USCF) about getting started. Bring this with you to your club or class if you are just learning the game, it has all the answers you will need to get started.
Click US Chess Federation, "Let's Play Chess" handout for your copy.
International Conference on Chess
Chess-Now attended the 2nd Koltanowski Conference on Chess and Education in Dallas, TX.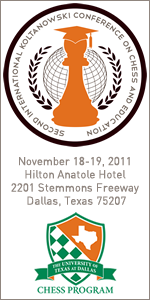 For more information on this world class symposium see Kolty2.
---