---
Chess and Tennis Come to Life at the US Open
in the 2009 Tennis Point of the Year.
Roger Federer and Novak Djokovic combined to use 6 chess tactics that resulted in Roger winning the tennis point of the year award in 2009. Here are the chess tactics they used:
| | |
| --- | --- |
| Initiative | In chess is the same as being in control of the point in tennis dictating play to your opponent. |
| Clearance | When a chess piece is traded, sacrificed or driven off the board, because another piece can accomplish something if they are no longer in the way. |
| Decoy | An attempt to attract an opponent's piece to a bad square. |
| Double Attack/Fork | Attacks multiple areas of the board at the same time. |
| Desperado | When a player is going to lose a piece and probably the game, so they take anything they can for it, maybe a Pawn for a Bishop. |
| Pinned | When an opponent's piece cannot move, because the King would be exposed to check, or does not want to move, because a valuable piece would be exposed to capture. Like a basketball player with glue on his shoes is not really helping the team. |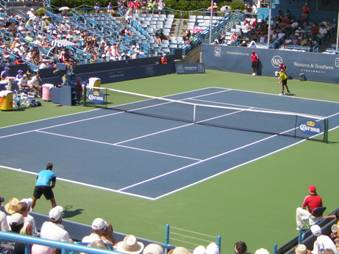 Click on this link Roger Hits the Shot of the Year to see these tactics come to life. Watch the video to see how these chess/tennis tactics created the combination. Here is a chess explanation of what is happening during the point.
Initiative

Novak is serving, so he has control of the point and hits a solid serve. Roger returns down the middle without much pace.

Clearance

Novak makes an aggressive shot (offense), hitting a forehand deep to Roger's backhand, driving Roger back off the court. Roger's return lands mid court without pace.

Decoy

Seeing Roger is off the court, Novak hits a drop shot attracting Roger to a bad spot in the corner up at the net.

Double Attack/Fork

Roger gets to the drop shot, but has left two areas of the court wide open back over his head and the entire ad court.

Novak answers with a backhand lob that attacks an open area over Roger's head.

Desperado

Roger races back to retrieve the lob, but then realizes there is no angle to play a typical shot.

Novak centers himself at the net with a meager split step.

Not wanting to lose the point, Roger goes for a "tweener" hitting the ball between his legs!

Pinned

Completely stunned, Novak doesn't want to or can't move for the ball and the shot of the year sails past him for a winner driving the crowd nuts.
For an even more amazing shot played by Roger Federer the following year watch this shot: Roger Goes Between the Legs - Again (even better)